Fisher's Food Center
Recipes
https://fishersfoodcenter.com/Recipes/Detail/4406/Herb_Roasted_Leg_of_Lamb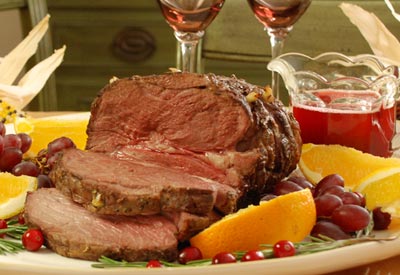 Herb Roasted Leg of Lamb
Yield: 8 servings
Ingredients
1

(5 pound) boneless leg of lamb

6
cloves

garlic, cut in half

3
Tablespoons

olive oil

2
Tablespoons

Dijon mustard

1 1/2
teaspoons

salt

1
teaspoon

black pepper

3
Tablespoons

fresh minced rosemary

2
teaspoons

fresh thyme leaves

Cranberry Gravy:

1
bag

(12 ounce) fresh cranberries, sorted and washed

3/4
cup

granulated sugar

1
cup

water

3
Tablespoons

flour

4
cups

chicken broth or turkey giblet stock

Salt to taste

Pepper to taste
Directions:
Preheat oven to 325 degrees F. Cut small slits in the lamb and insert garlic pieces into the slits.

Combine olive oil, mustard, salt, pepper, rosemary and thyme and rub thoroughly over and into the meat. Place the lamb on a rack in a roasting pan and place in oven uncovered. Roast for 20 to 25 minutes per pound (approximately 1 3/4 hours).

Remove from the oven when meat thermometer registers between 130 degrees to 135 degrees F. Allow to stand 15 minutes before carving to allow juices to set and meat to continue cooking to about 145 to 150 F. for medium-rare. (Take care to never cook lamb until well done as it will be very dry.)

Remove kitchen string and slice into 1/2 thick slices against the grain of the meat. Serve with Cranberry Gravy if desired.


Photo and food styling by Webstop

Cranberry Gravy:
In a covered saucepan cook cranberries and sugar over moderately low heat, stirring frequently, until sugar is melted and cranberries burst.

In batches, puree cranberry mixture in a blender until smooth and transfer to a bowl. Cranberry mixture may be make 1 day ahead and covered and chilled. Bring mixture to room temperature before continuing with the preparation.

Skim fat from pan juices, reserving 3 tablespoons fat, and deglaze pan with water over moderately high heat, scraping up brown bits. Simmer pan juices 3 minutes, stirring. Remove from heat and set aside.

In a saucepan whisk together reserved fat and flour and cook mixture over moderately low heat, whisking for about 3 minutes. Add pan juices and broth slowly; whisk. Add cranberry mixture and continue to whisk. Boil gravy, whisking occasionally, until reduced to about 5 cups. This will take 15 to 20 minutes. Strain through a sieve into a saucepan. Season gravy with salt and pepper and serve warm.
Please note that some ingredients and brands may not be available in every store.
Fisher's Food Center
Recipes
https://fishersfoodcenter.com/Recipes/Detail/4406/