Fisher's Food Center
Recipes
https://fishersfoodcenter.com/Recipes/Detail/6710/Italian_Dressing_and_Marinade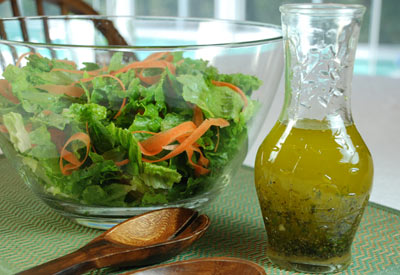 Italian Dressing and Marinade
A nice, light salad dressing or flavorful marinade for beef, chicken or pork
Yield: 2 1/2 cups (40, 1 Tbsp servings)
Preparation Time: 5 minutes
Ingredients
1
cup

cider vinegar or vinegar of choice

1 1/3
cups

extra virgin olive oil or canola oil

2
Tablespoons

water

1 1/2
teaspoons

garlic powder

1 1/2
teaspoons

dried minced onion

1 1/2
teaspoons

dried parsley

1 1/2
teaspoons

granulated sugar

1
Tablespoon

dried oregano leaves

1/2
teaspoon

dried basil

1/2
teaspoon

ground black pepper

1/4
teaspoon

dried thyme leaves

1/4
teaspoon

celery seed

1
Tablespoon

salt (optional)
Nutrition Facts
Yield: 2 1/2 cups (40, 1 Tbsp servings)
Approximate Nutrient Content per serving:
Calories:
65.8
Calories From Fat:
63
Total Fat:
7.5g
Saturated Fat:
1.1g
Cholesterol:
0.0mg
Sodium:
0.2mg
Total Carbohydrates:
0.7g
Dietary Fiber:
0.0g
Sugars:
0.5g
Protein:
0.0g
Prepared without adding salt for a low sodium diet. By adding 1 Tbsp salt, sodium content is 177.2 mg per 1 Tbsp serving.
Directions:
In a bowl or large (4 cup) liquid measure, whisk together all ingredients until blended. Mixture will stay fresh for up to 90 days.

Just prior to use, whisk or shake to blend ingredients.
Recipe, photo and food styling by Webstop

Flavor Option:
Add 1 Tablespoon balsamic vinegar to the mix for nice added flavor.
Please note that some ingredients and brands may not be available in every store.
Fisher's Food Center Recipes
https://fishersfoodcenter.com/Recipes/Detail/6710/